Sidmouth


01395 - 577473


Hylton Surgery
Seafield Lane
Sidmouth
EX10 8HF

------------------

Seaton


01297 - 626824


Townsend House Medical
Centre
49 Harepath Road
Seaton
EX12 2RY




Patients consult us with
the following conditions :



Low back pain


Neck pain


Arthritis


Sciatica


Trapped nerve


Knee pain


Hip pain


Shoulder pain


Tennis elbow


Migraines


Head aches


Postural problems


Sports injuries


Hand / wrist
problems


Carpal tunnel


Muscular aches


Fibromyalgia


Circulatory
problems

About us.

Our training


Don and Sally trained at the British School of Osteopathy in London for four years, qualifying in 1987. This was similar to a medical degree, with more emphasis on anatomy and musculoskeletal medicine, with human dissection at St. Thomasís medical school.
The training included more than 1000 hours of training in osteopathic techniques and working in outpatient clinics.
Sally was awarded the Clinic Prize in her final year.
Don achieved the highest mark out of 120 students in the year, in osteopathic manipulative technique in his finals.



Don Blyth


On qualifying Don returned to Devon, where he grew up. He established the practice in Sidmouth with Sally, and shortly afterwards joined Sally at the GP practice in Seaton.

Don has always been an outstanding sportsman. He represented London schools playing cricket, had a trial to play professionally for Wimbledon Football Club and represented England in the U19 rugby squad. Having played professional rugby in Australia and having played, coached and been the medic for Sidmouth Rugby Club for many years, Don has a wealth of experience in injury prevention and the treatment of sports injuries. He has also written for a menís health magazine regarding metatarsal fractures in premiership footballers.

Don treats a vast range of conditions, not just sports injuries : his specific interests being postoperative rehabilitation and managing arthritic conditions, especially osteoarthritic spines, hips and knees.



Sally Blyth


On qualifying Sally moved to Devon and, with Don, established the practice in Sidmouth and was invited by the Seaton GPs to join the Townsend House Medical Centre.
Prior to raising a family, Sally was a leading lady, for over ten years, in local musical productions and pantomimes in Sidmouth and Seaton.
Sally treats all types of conditions, with patients ranging from 3 to 103 years of age. She has a specific interest in anything to do with the garden - including garden injuries and her areas of expertise are treating shoulders, headaches and migraines and all arthritic conditions.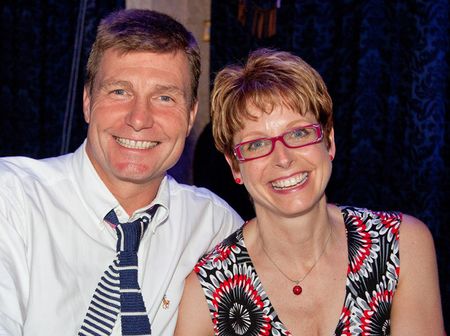 Sidmouth Osteopaths © 2021